We are an airline created by Indigo Partners, a private investment fund with over 20 years of experience developing successful Ultra Low-Cost airlines worldwide.
It currently has investments in Wizz Air (Eastern Europe), Volaris (Mexico) and Frontier Airlines (United States).
JetSMART is managed by a first-class team, from multiple nationalities and with long years of experience in the national and international air travel market.
MISSION
We're here to connect people through Ultra Low-Fare travel.
VISION
We see ourselves connecting millions of people in South America.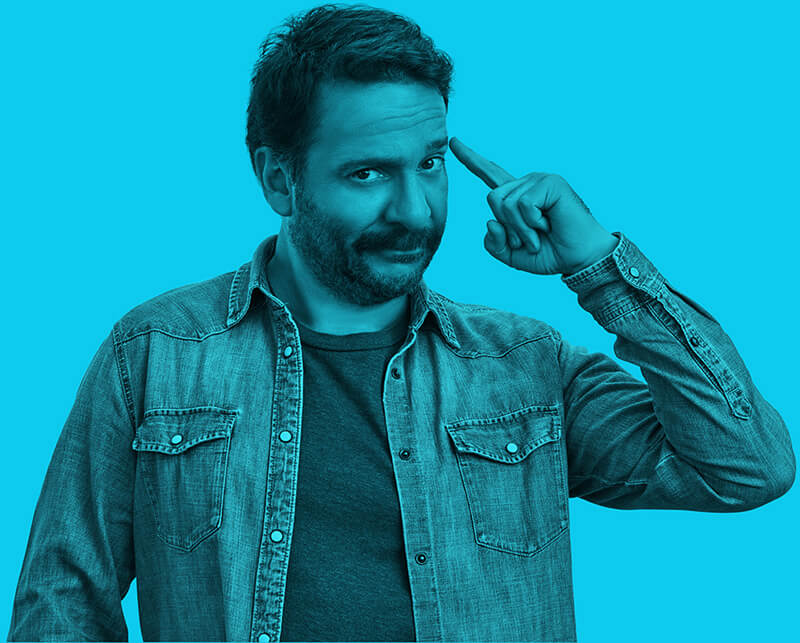 45cm. × 35cm. × 25cm.
Maximum weight 10kg.
Max. 1 per passenger
55cm. × 35cm. × 25cm.
Maximum weight 10kg.
Max. 1 per passenger
Max. 158cm. linear centimeters.
Maximum weight 23kg.
Max. 5 per passenger
Flying SMART is flying more and paying less. At JetSMART we offer low and simple fares that allow more people to connect through travel without paying extra for additional benefits that other airlines charge in the price.
Flying SMART is paying only what you use. It's choosing what you want to carry. If you don't bring baggage, you don't pay for baggage. You decide.
Flying SMART is flying in new aircraft. At JetSMART all our aircraft are new and operate under the highest safety standards.

Always new aircraft, that's our premise. We will constantly be adding new additions to Latin America's newest aircraft fleet, each of which is represented by an animal. Learn more about all of them below.
Bottlenose dolphin
SAMY
The dolphin is a mammal of the cetacean family, known for its intelligence, playful personality and for being great acrobats. They grow from 2 to 3.8 meters long and live in warm and temperate waters. Bottlenose Dolphins live in herds to help each other, care for their young, feed and explore the oceans. It is scientifically named Tursiops truncatus and now you can also see it in the skies of South America in the tail of our A321 neo aircraft joining the sustainability trend by being the fifth marine animal in the tail of our aircraft.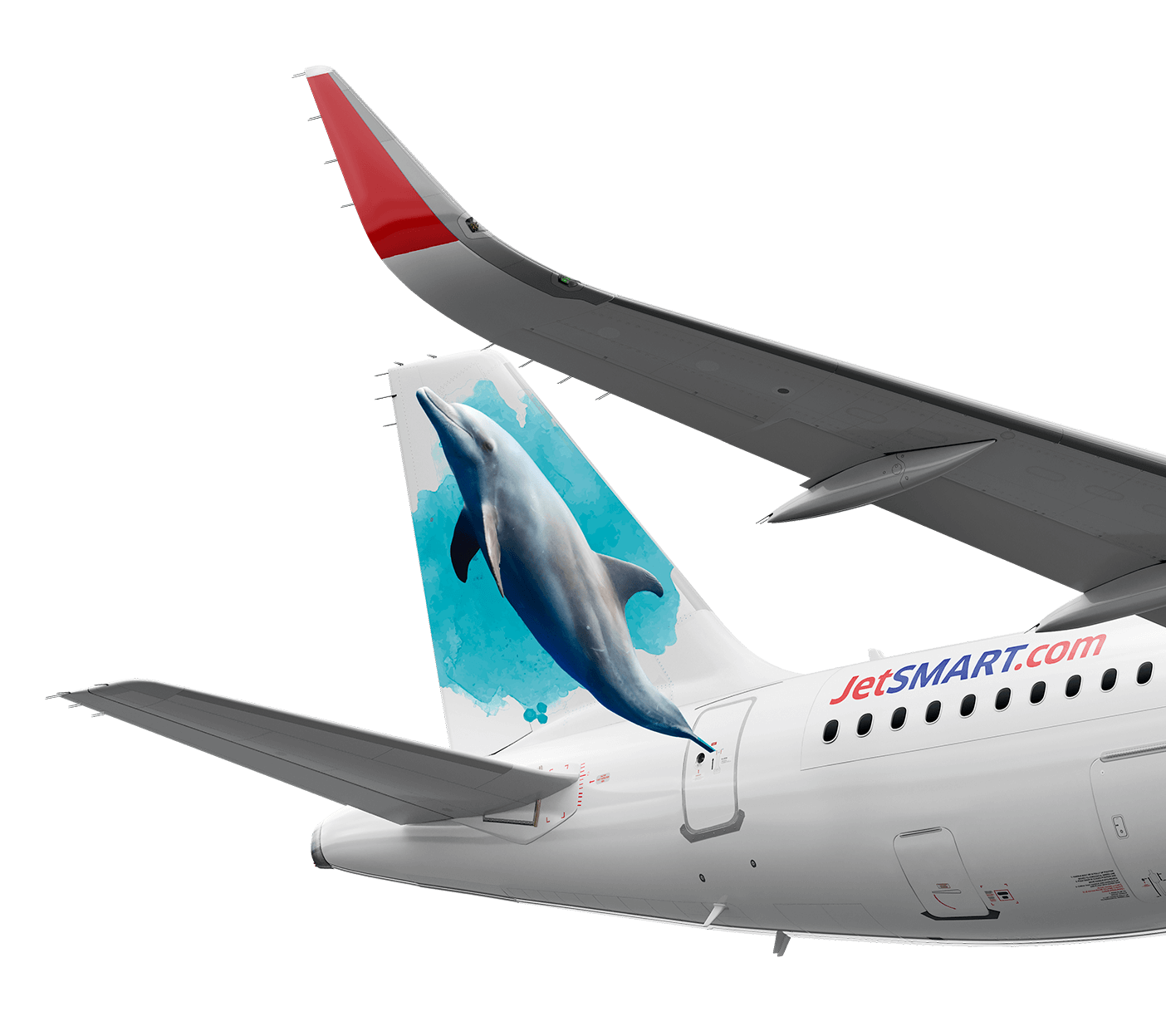 SOUTH AMERICAN SEA LION
Wanda
Sea lions are mammals with very short limbs, shaped like fins. Their skin is thick and covered with hair. They are also known as Lobo or Lion and can be found on the islands and Atlantic coasts of South America, and on the Chilean and Peruvian coasts. They are large animals, with a maximum length for adult males of 2.8 meters, and their weight ranges between 300 and 350 kg. Adult females have a maximum length of 2.20 meters and weigh 144 kg. They are mainly found along rocky coastlines from the north of Peru to Cape Horn, and from there to the south of Brazil. In Chile, the common sea lion is found from Arica to the Magallanes region, including some offshore islands, and now you will be able to admire its beauty as it takes over the skies of South America!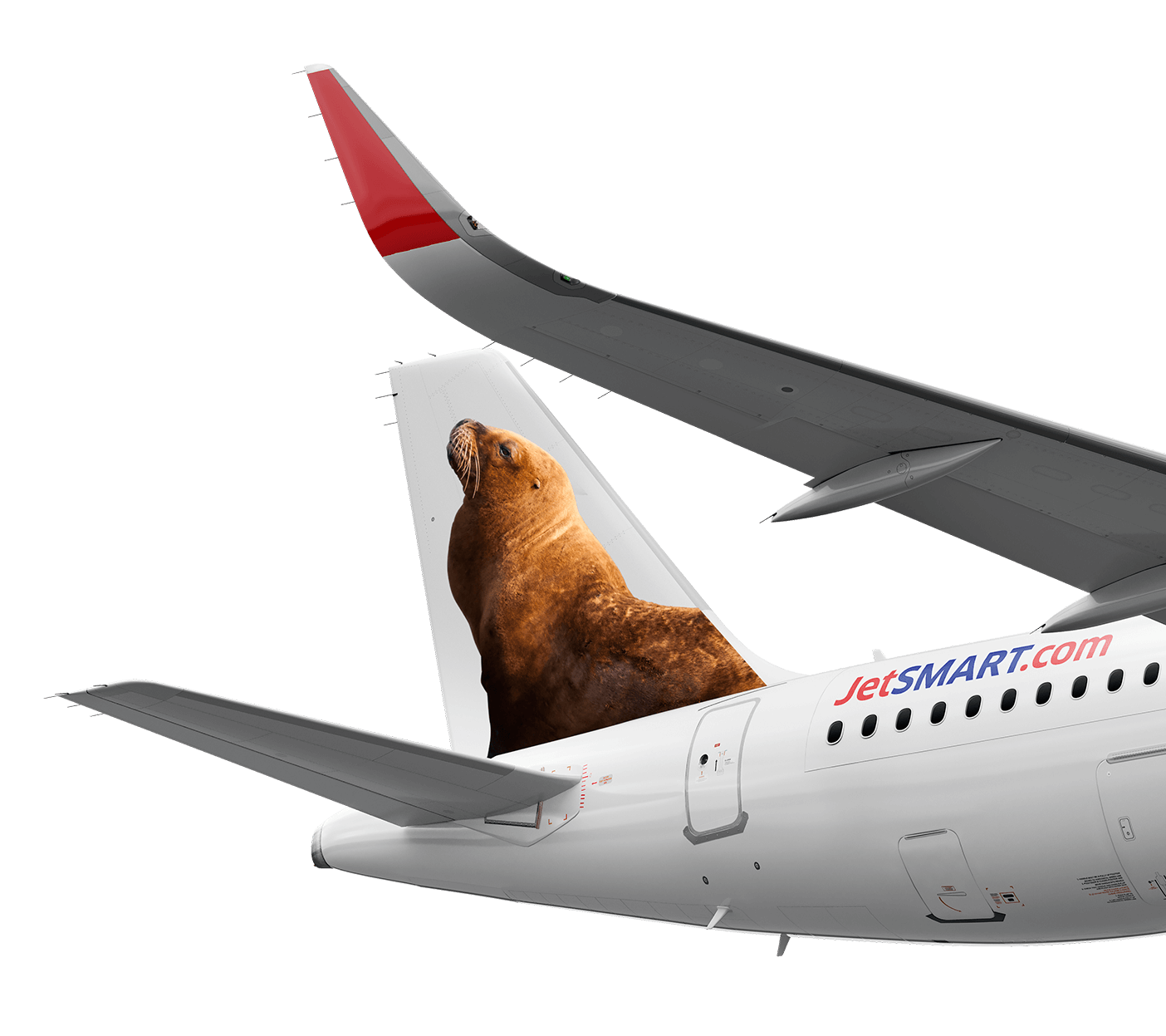 The Spotted Eagle Ray
Rayén
The Spotted Eagle Ray can grow up to 3 meters, weigh about 230 kg. and has a dark back surface covered with numerous white spots and a long tail, and has the longest stinger of all rays. They inhabit shallow coastal waters of coral reefs and bays and reach depths of up to 80 meters and feed on mollusks, crustaceans, and small fish. You can see them jumping out of the water and now in the sky! Because they're our new animal that adorns the tail of our A321 Neo aircraft.
THE ORCA
"WILLIAM"
The Orca is a cetacean belonging to the family "Delphinidae" (oceanic dolphins) are known for their intelligence and are characterized by their black and white colors. Females are smaller, they can measure about 6 meters long while males reach up to 8 meters. They are mammals that breathe above the water's surface through a spiracle on the top of their head. The killer whale is a long-lived animal that can live between 60 and 90 years! You can find them in all the world's oceans and now on the tail of our A321 neo aircraft that will fly all over South America.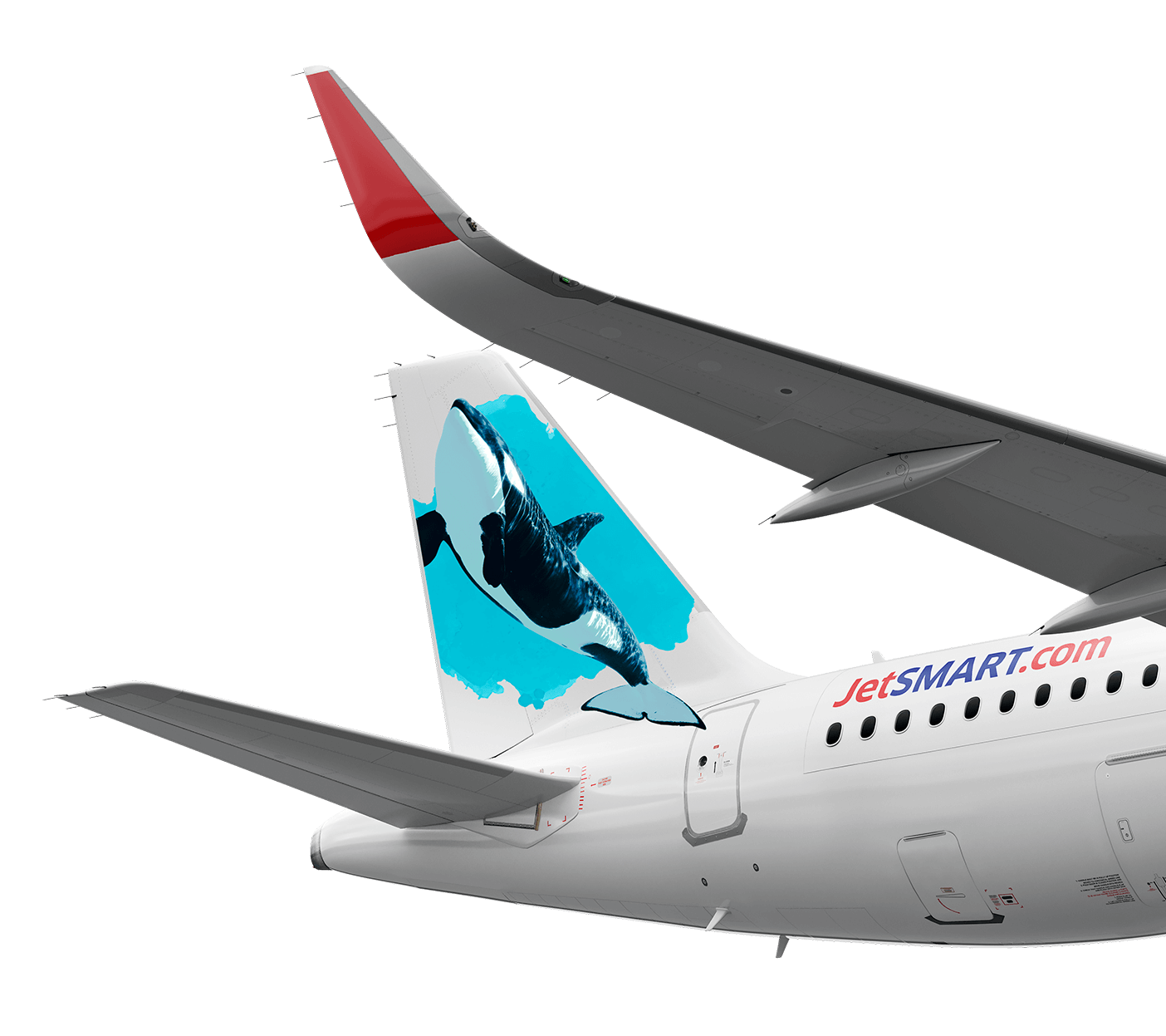 HUMPBACK WHALE
"MARINA"
The humpback whale is a large cetacean, which can reach up to 19 meters long, which inhabits all oceans, and gets its name from the "hump" that appears when it submerges. It is possible to find it along the Chilean coasts west of the Humboldt Current and in summer some groups can be seen feeding off the coast of Chiloé and the Strait of Magellan. They also travel the Colombian Pacific, the warm waters of Brazil and northern Peru. And now you will be able to see all its beauty flying through the skies of South America!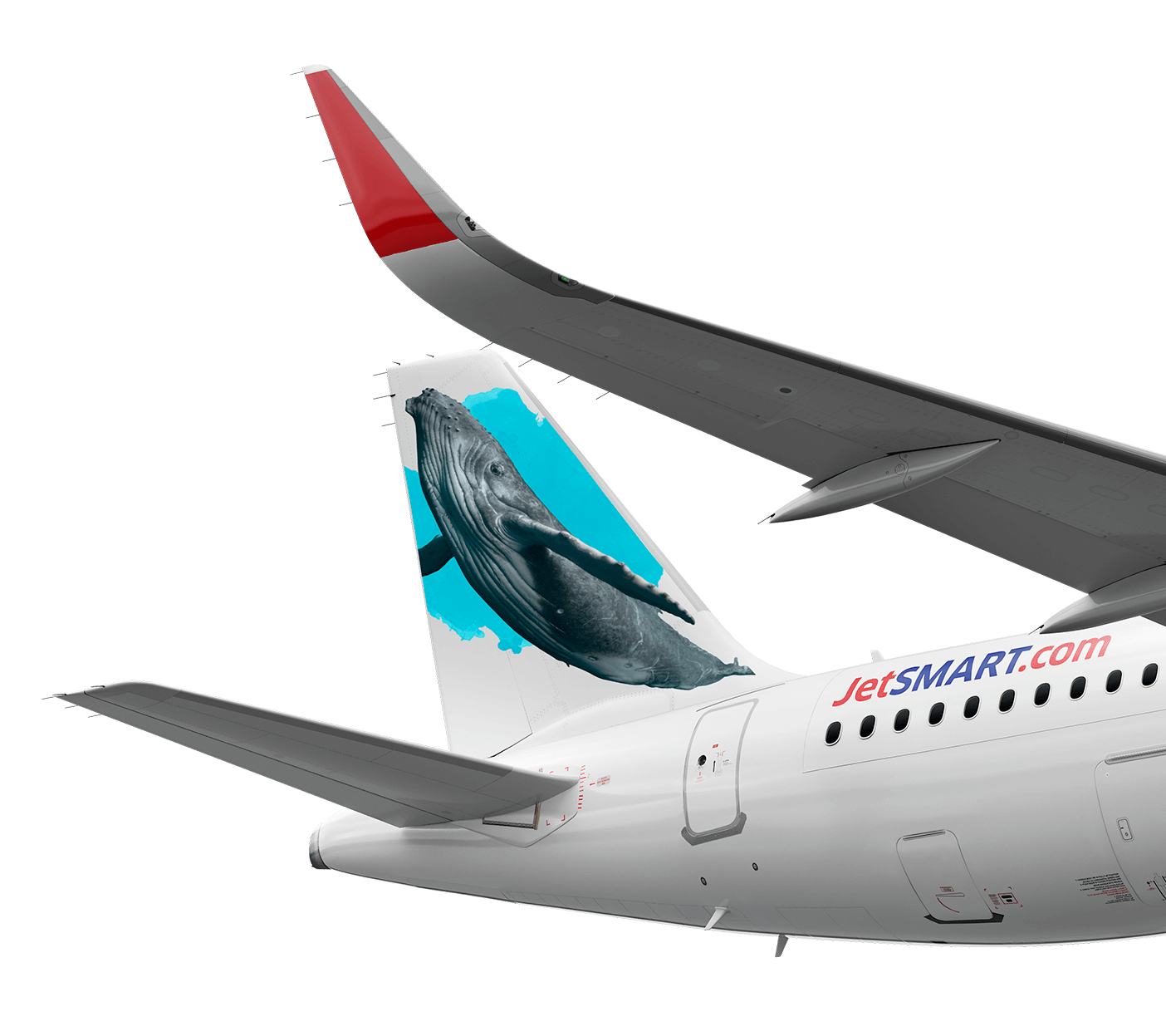 CRESTED CARACARA
"JUANCHO"
The Crested Caracara, also known as traro, is a bird of prey that reaches a length of 55 to 60 cm. They inhabit the south of Peru, Argentina, Bolivia, Paraguay, Uruguay, and part of Brazil, while in Chile they are found from Arica to Tierra del Fuego. You can now see them flying in our Airbus A320 Neo, as another representative of our rich South American fauna.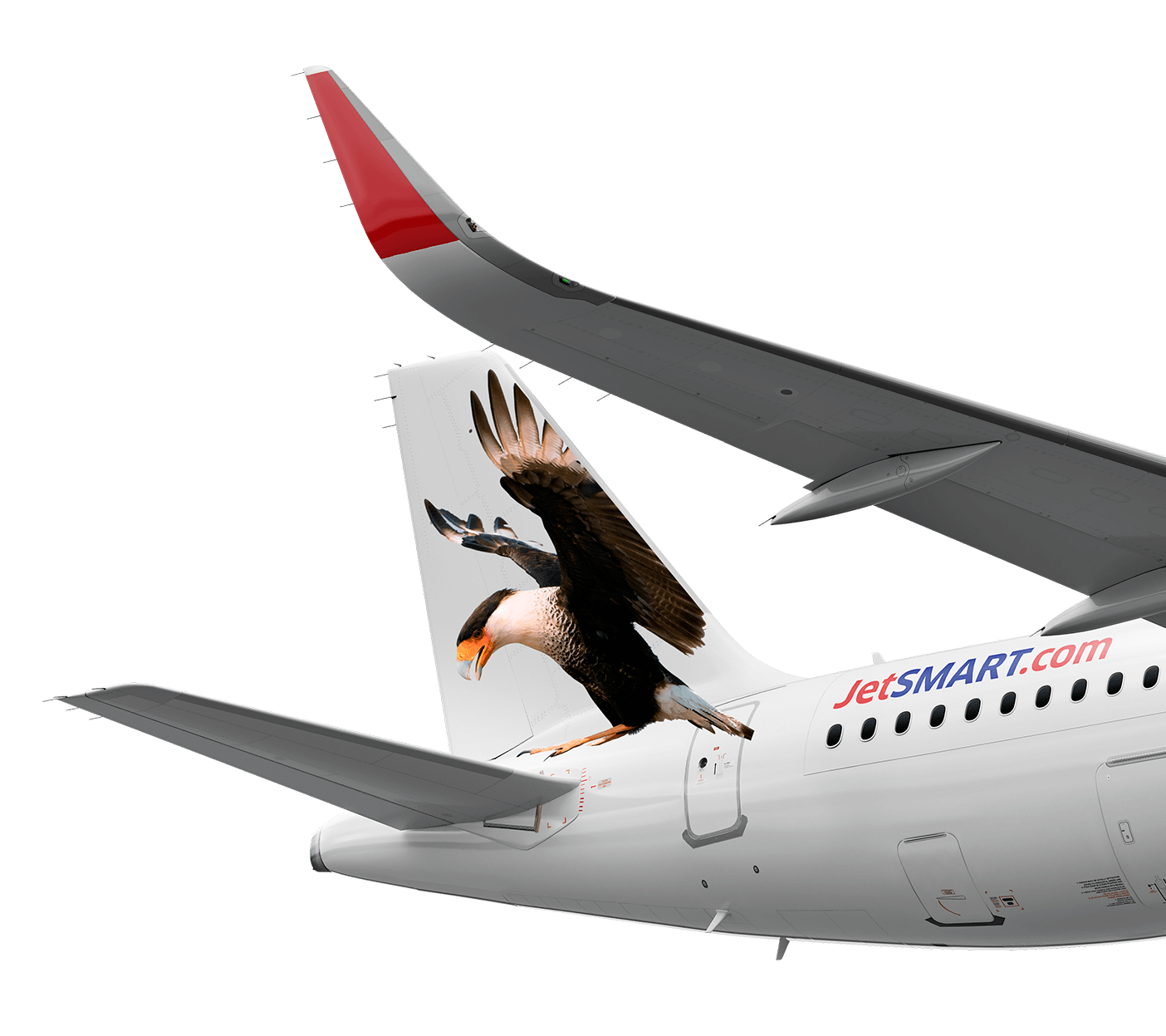 CHILEAN'S WOODSTAR
"ZUNZÚN"
The Chilean Woodstar is the smallest bird in Chile, and one of the smallest in the world. In general, it is known that a significant percentage of the population migrates to higher altitudes in order to benefit from flower supplies as the best conditions are found at high altitudes. The Airbus A320 also offers excellent in-flight standards so passengers can travel comfortably in pre-reclined seats and in the newest fleet of the continent.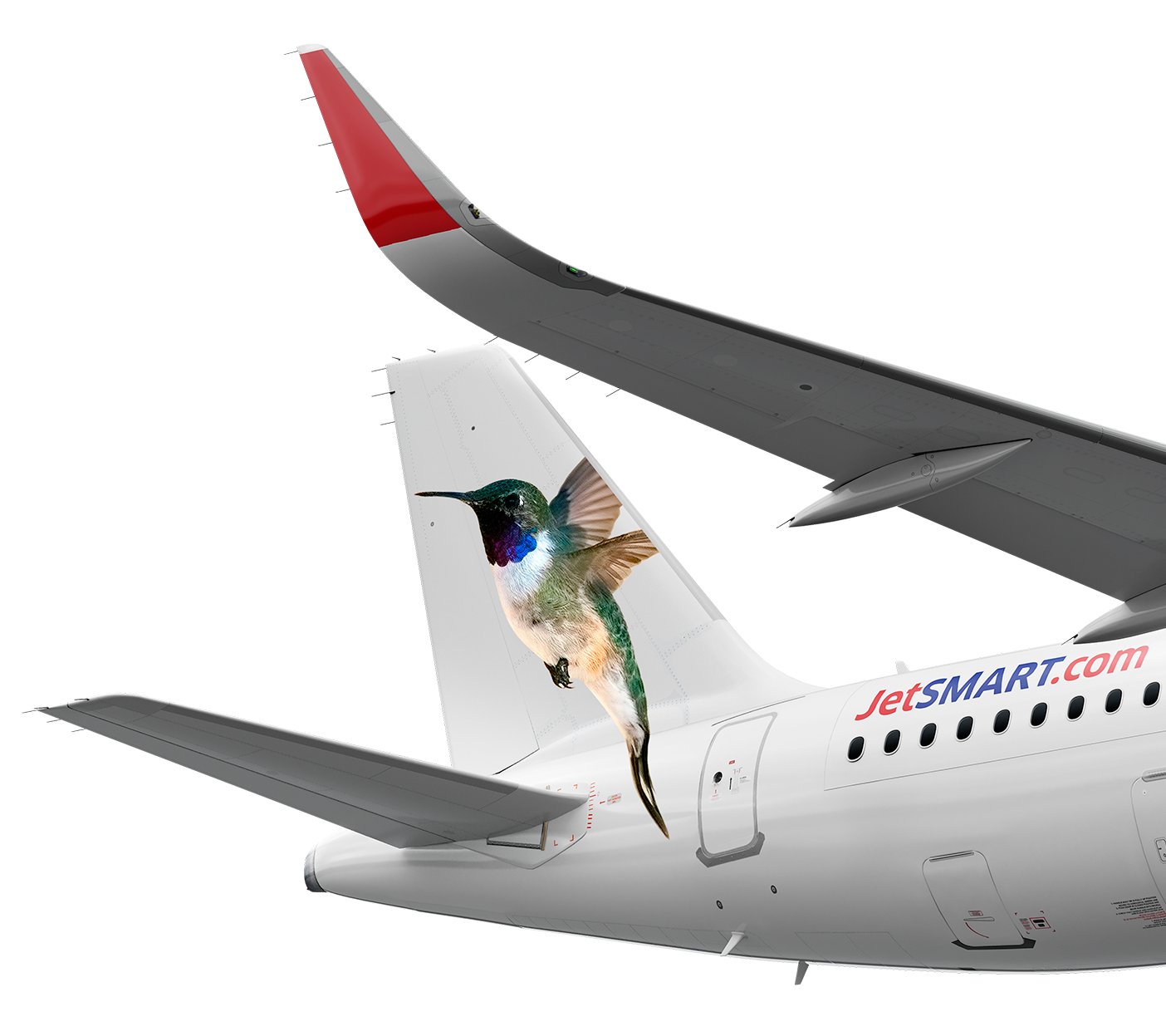 VICUÑA
"VICKY"
Vicuñas are mammals that live in the Andean region and adapt very well to the highlands, thanks to their anatomical and physiological characteristics that allow them to comfortably inhabit this area without using a lot of energy. In the same way, our Airbus A320 has one of the lowest aircraft operating costs compared to any other single-cabin aircraft, allowing us to offer safe travel at ultra-low prices. With JetSMART everyone can get on board and fly to their favorite destinations.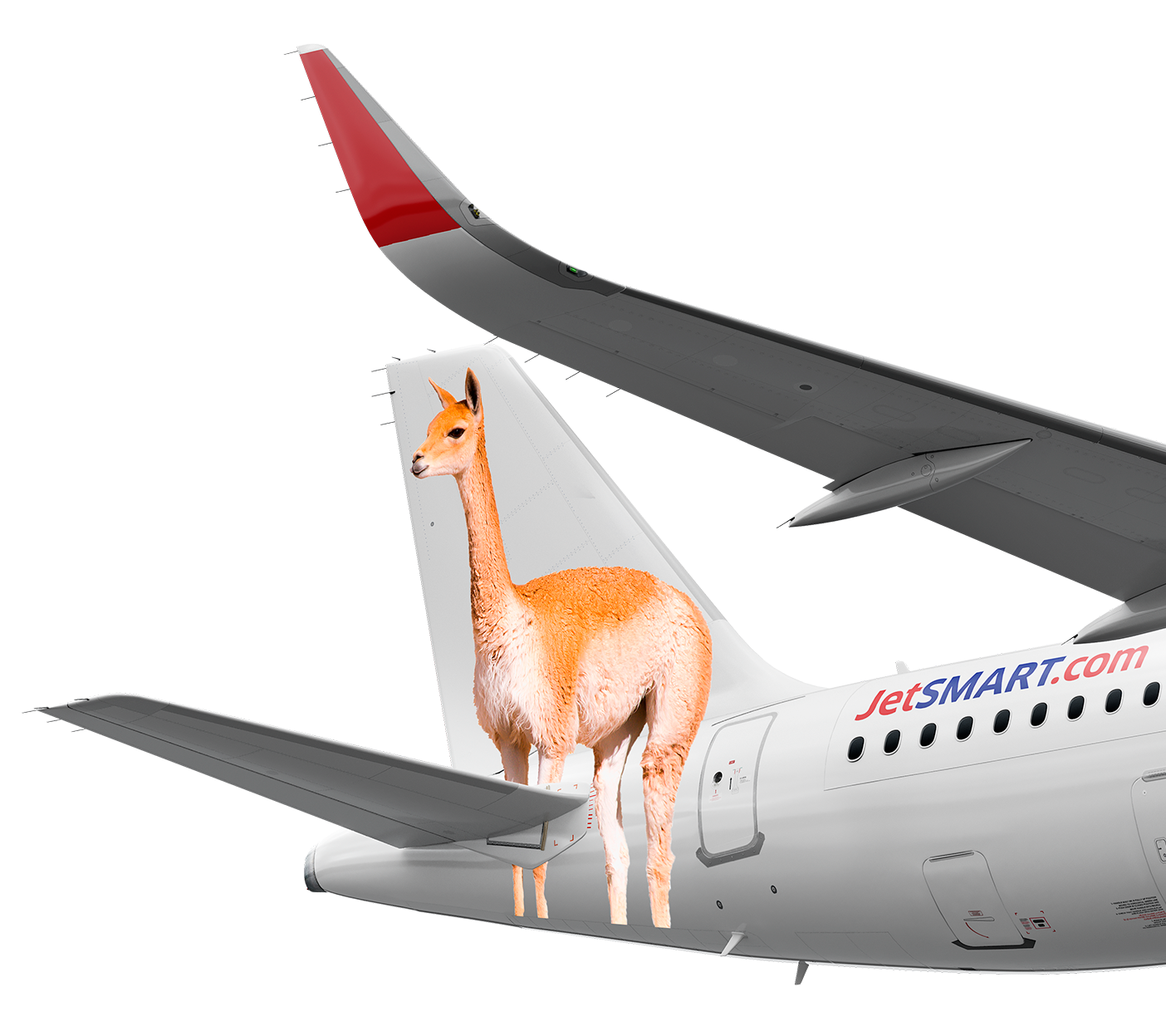 GREEN SEA TURTLE
"VALENTÍN"
The Green Sea Turtle can be found in the northern coastal area, however, it is a migratory animal that inhabits different areas depending on the stages of its life. At JetSMART, our Airbus A320, just like the Green Sea Turtle, joins our airline with more domestic and interregional routes. This animal is also one of the most common turtles to spot, just like our airplane that flies over the skies to take all our JetSMART passengers to unique destinations.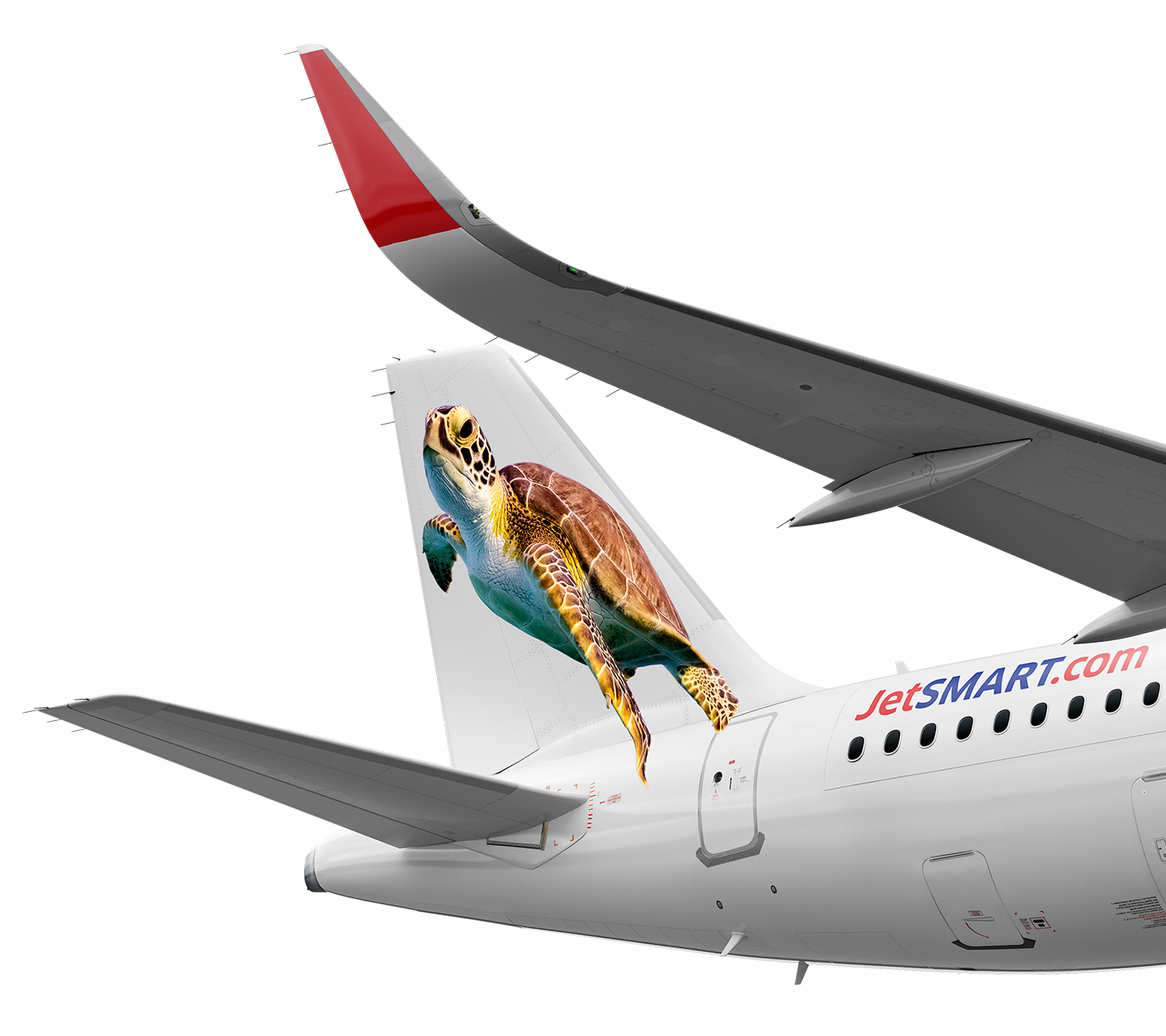 JAMES'S FLAMINGO
"FLAMINGO"
The James's Flamingo inhabits the north of Chile, in particular in the northern highlands of the Andes. It is possible to see its beautiful and elegant white feathers with a pink tinge at an altitude of over 3,500 meters above sea level, just like our Airbus A320, which will surprise you with its completely new interior and exterior. We can now see James's Flamingo flying at a much higher altitude in South American skies.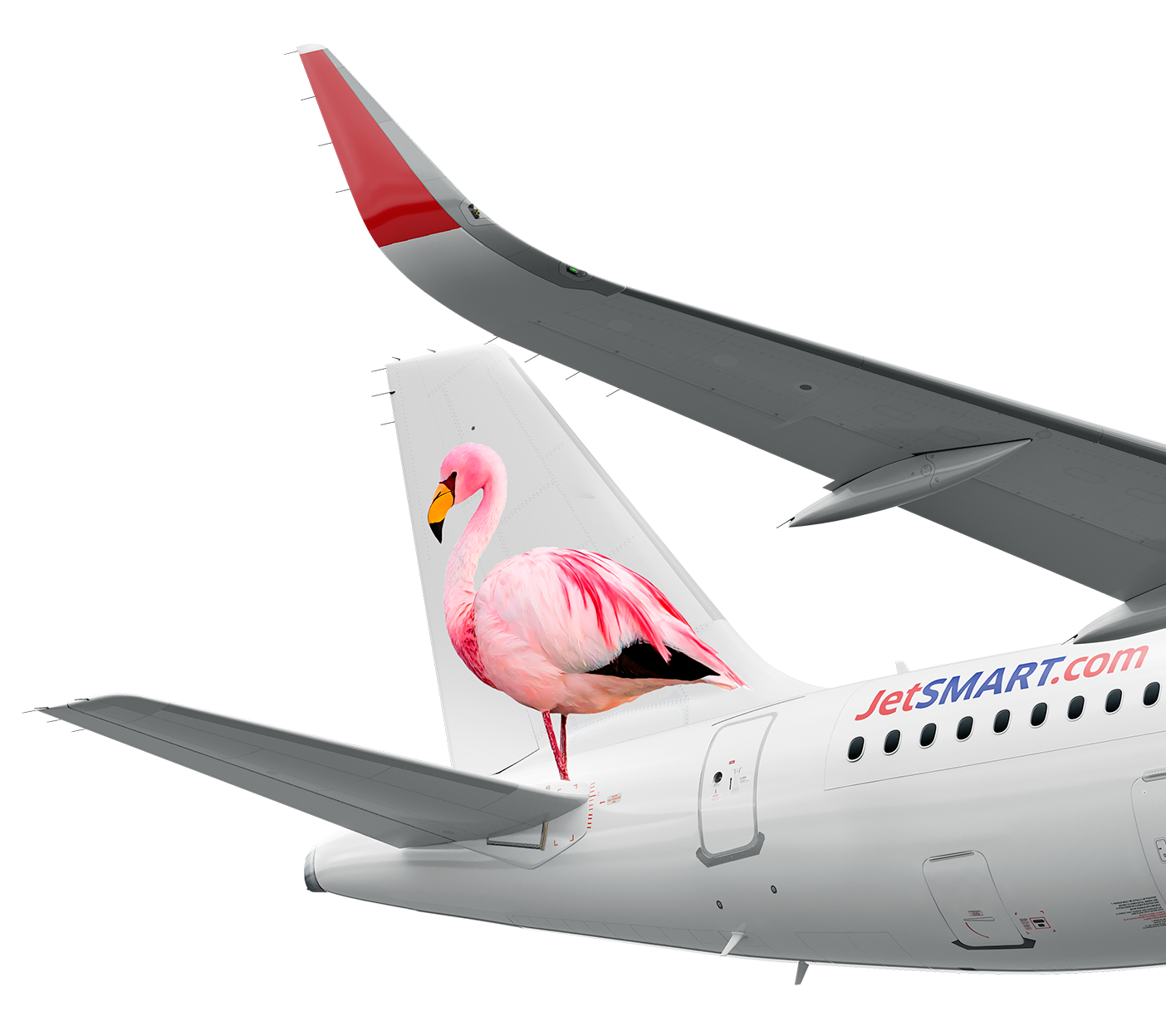 MAGELLANIC HORNED OWL
"TUCU"
This nocturnal bird lives in South America. It flies over Peru, Argentina and all over Chile, from Arica to Punta Arenas, just like our Airbus A320. On the other hand, the Magellanic Owl has been a reference for aircraft manufacturing, because of its aerodynamics in flight, which reduces noise emissions.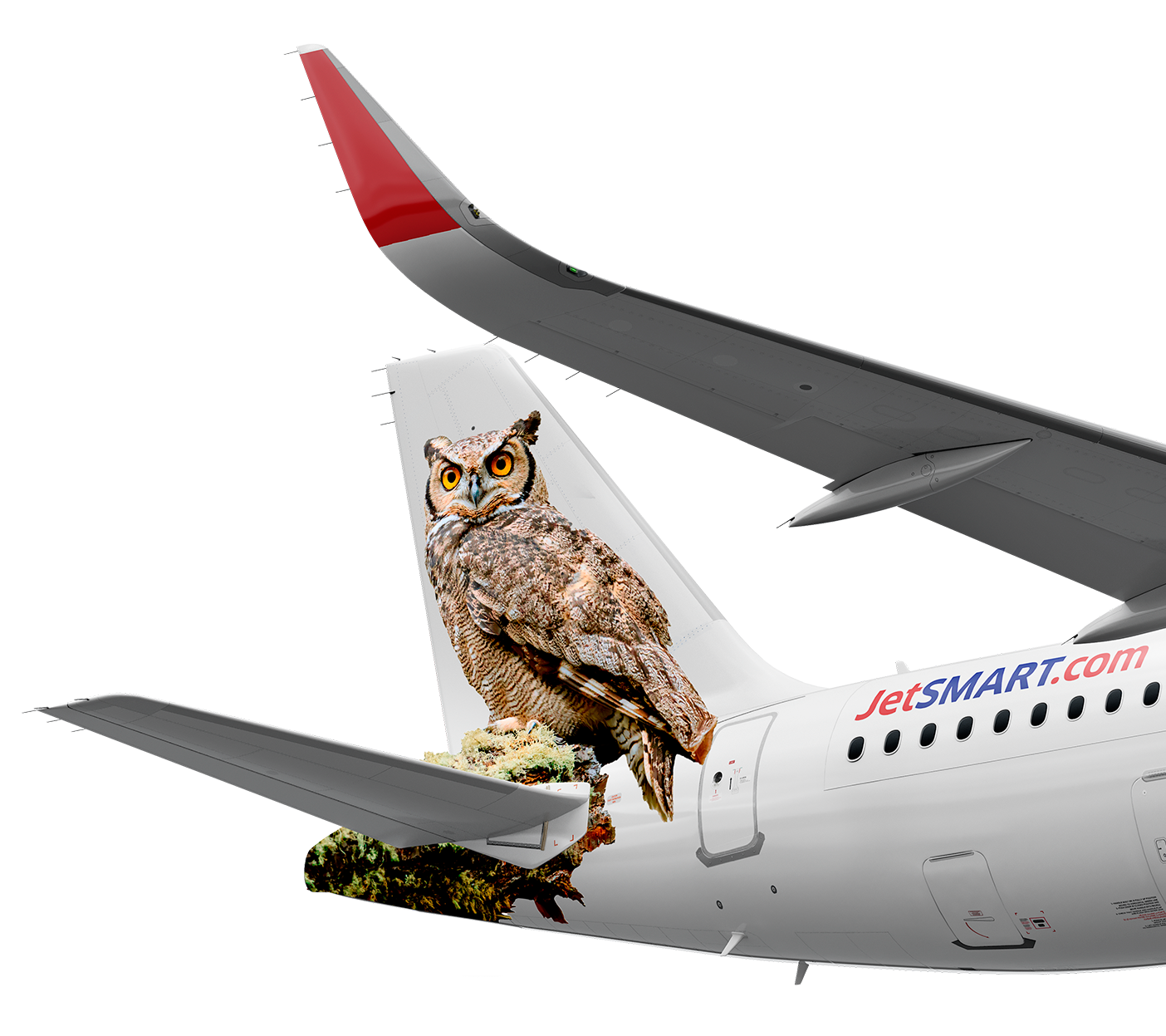 MAGELLANIC WOODPECKER
"BETO"
The Black Woodpecker is found on the Chilean side of the Andes Mountains, southwestern Argentina and Tierra del Fuego. The bird's black plumage, red head, and distinctive chirping make it a typical bird of this area, and it has become a very special member of JetSMART's fleet of new aircraft. Our Airbus A320 certainly flies over the same regions as the Black Woodpecker, allowing passengers to see the beautiful landscapes of the country and, best of all, at ultra-low prices.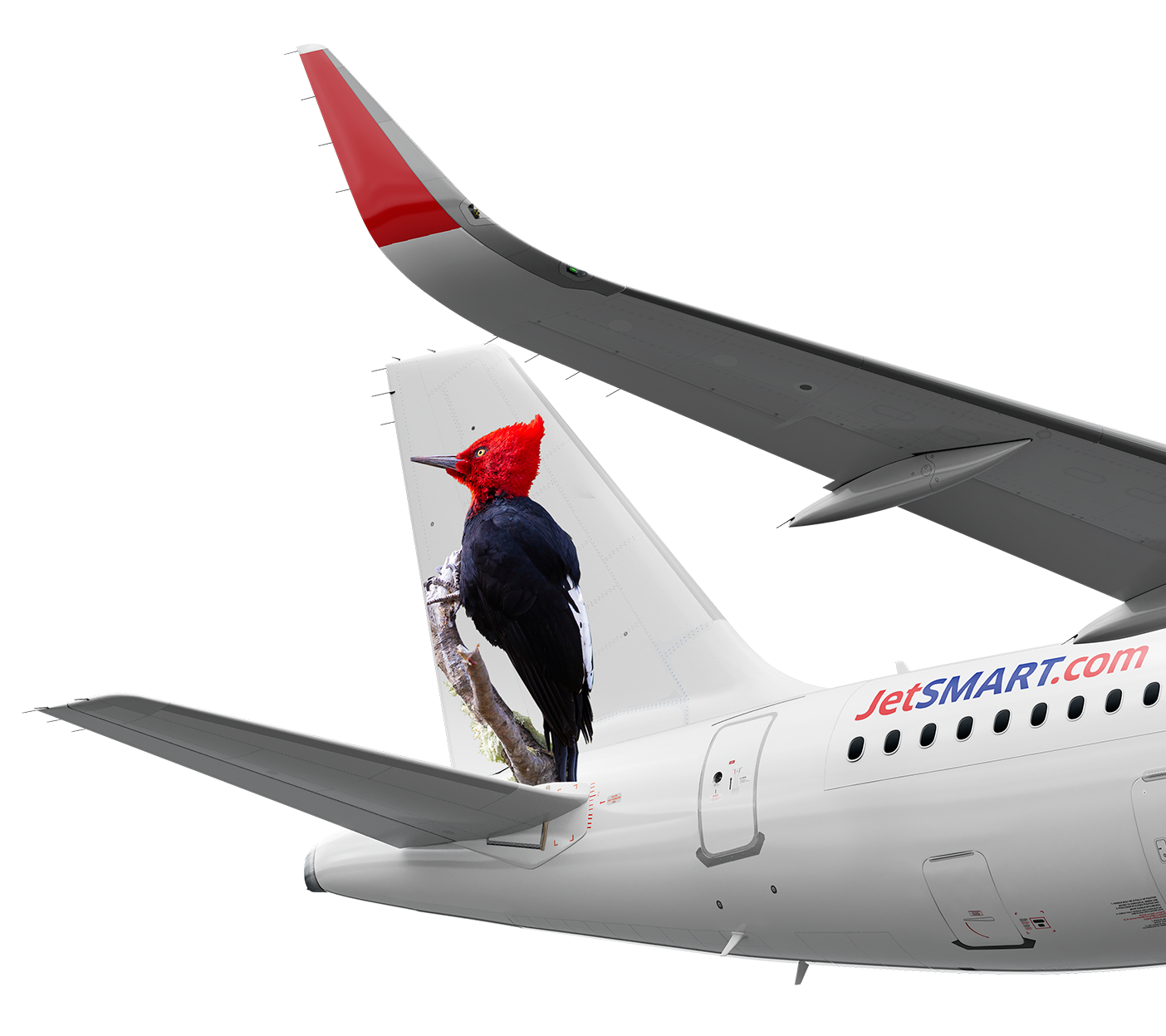 CARDENAL
"FÉNIX"
"Cardenal" is a species of the southern hemisphere; Brazil, Paraguay, Uruguay and, mainly Argentina, are the countries where they live. It is considered exotic for its intense red color and the characteristics of its song. Today, the cardinal accompanies us on our A320 plane that flies on the national routes of Argentina and international to Santiago de Chile.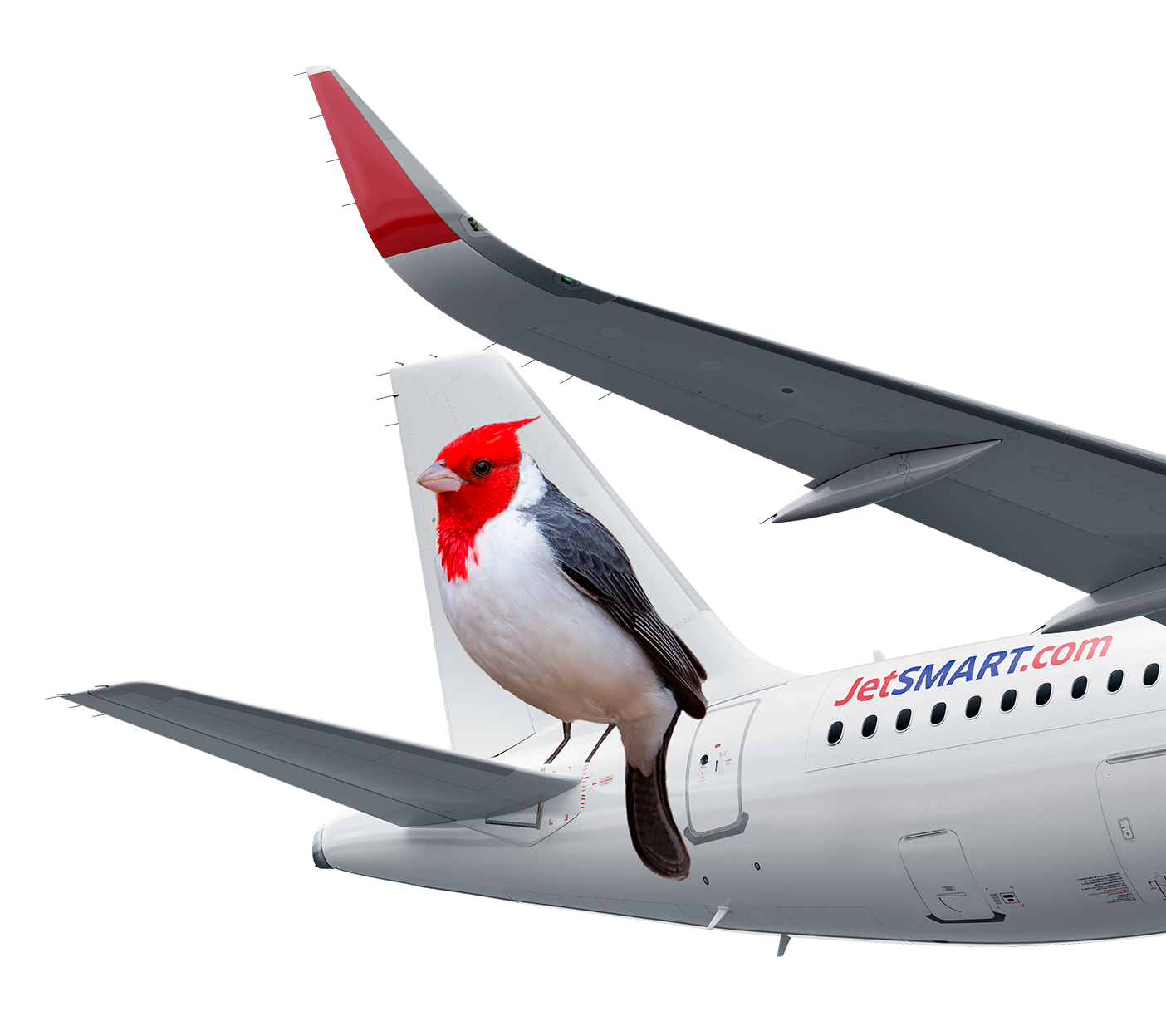 ZORRO
"Airfox"
The Culpeo Fox is native to the west side of South America, from Ecuador to Peru to the southernmost regions of Patagonia and Tierra del Fuego. Today also flies with us in the destinations of Chile, Argentina and Peru in our A320 aircraft.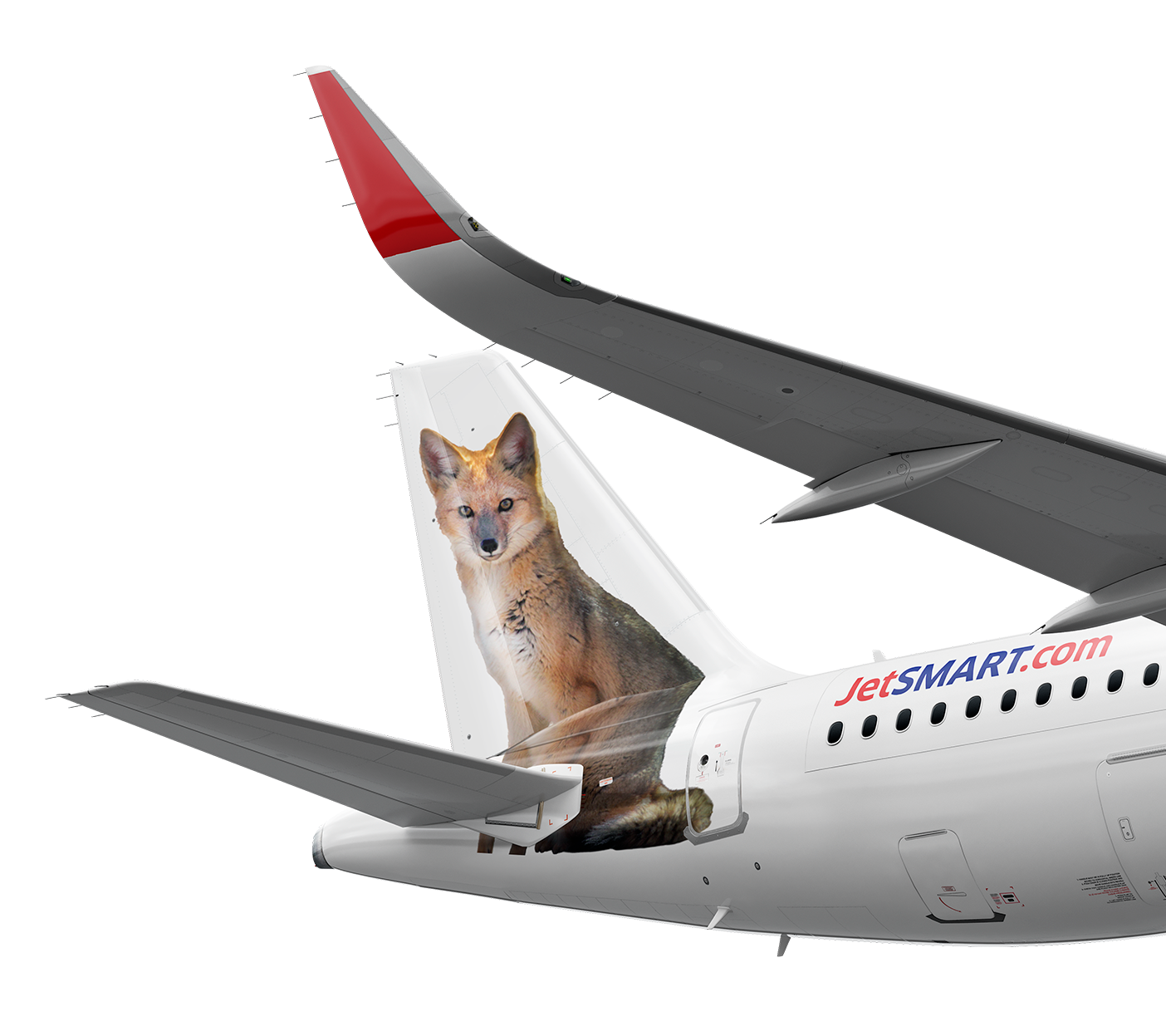 South Andean Deer
"ANDINO"
An endangered animal, its situation has now been described as extremely critical. A noble deer that is disappearing from our land day by day, can now be seen in the sky together with the Airbus A320, showing South America that it still exists and that it is a representative of the region.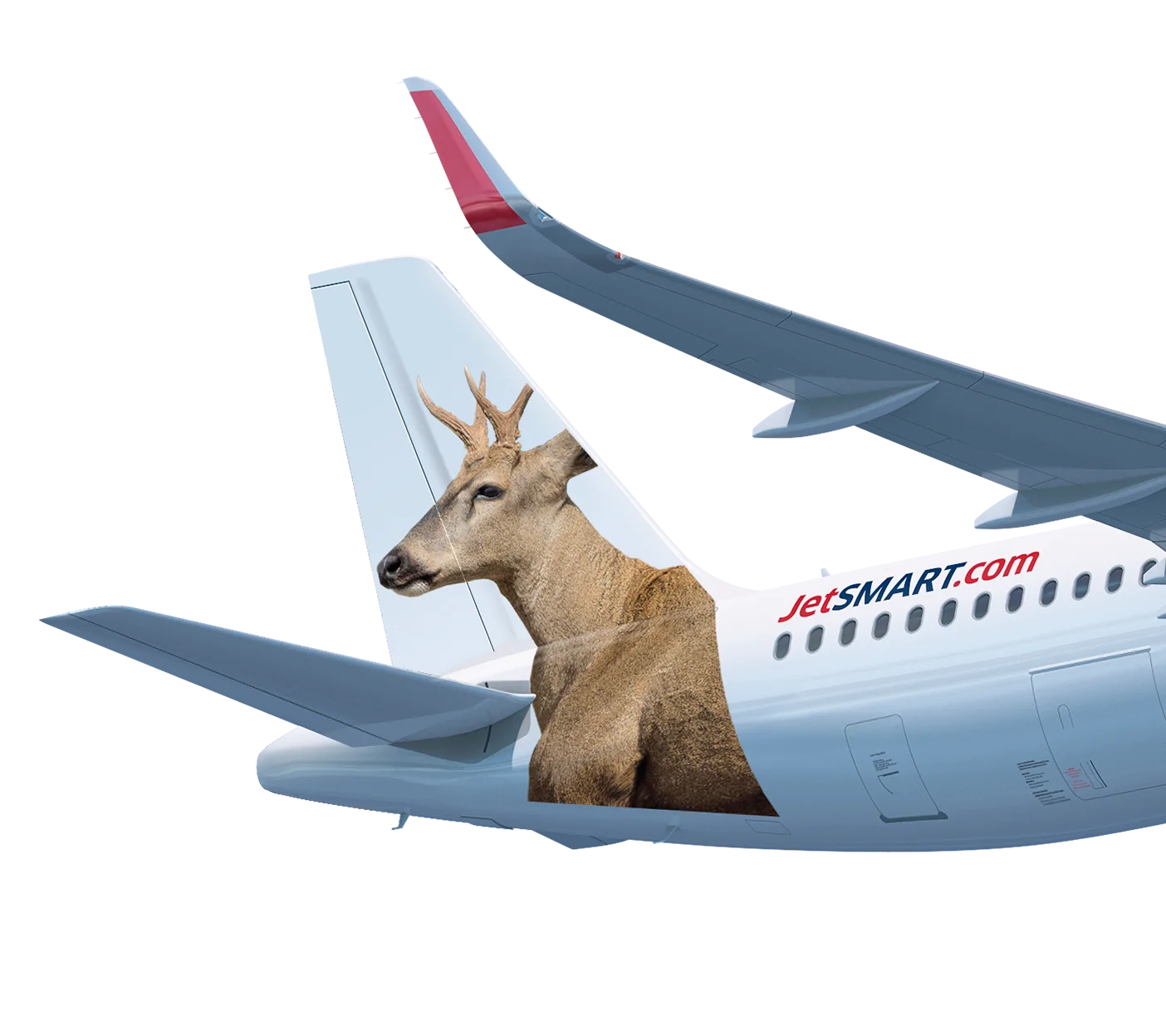 Penguin
"AUSTRAL"
The new Airbus A320 is an aircraft that, just like the king penguin, rules over the lands of the southern hemisphere. It is capable of moving without any difficulties on the versatile surfaces that this area provides, adapting naturally to the ecosystem that predominates in the region.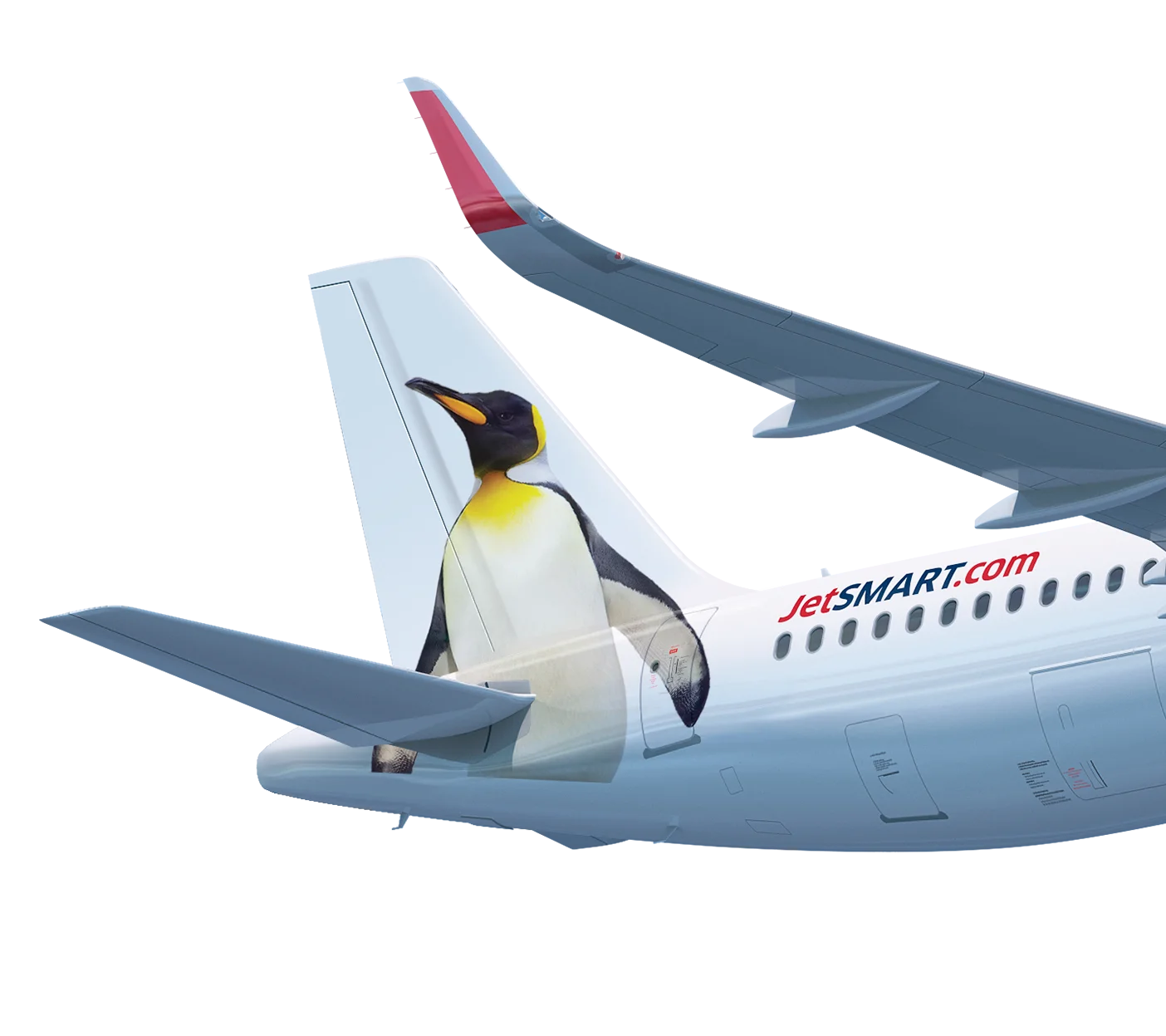 Puma
"PANGUI"
Agility, cleverness and versatility define the puma. They are coincidentally also the most representative features of our new Airbus A320. In addition to this, both are conceived to combine strength and speed, resulting in a powerful takeoff which allows them to reach any objective.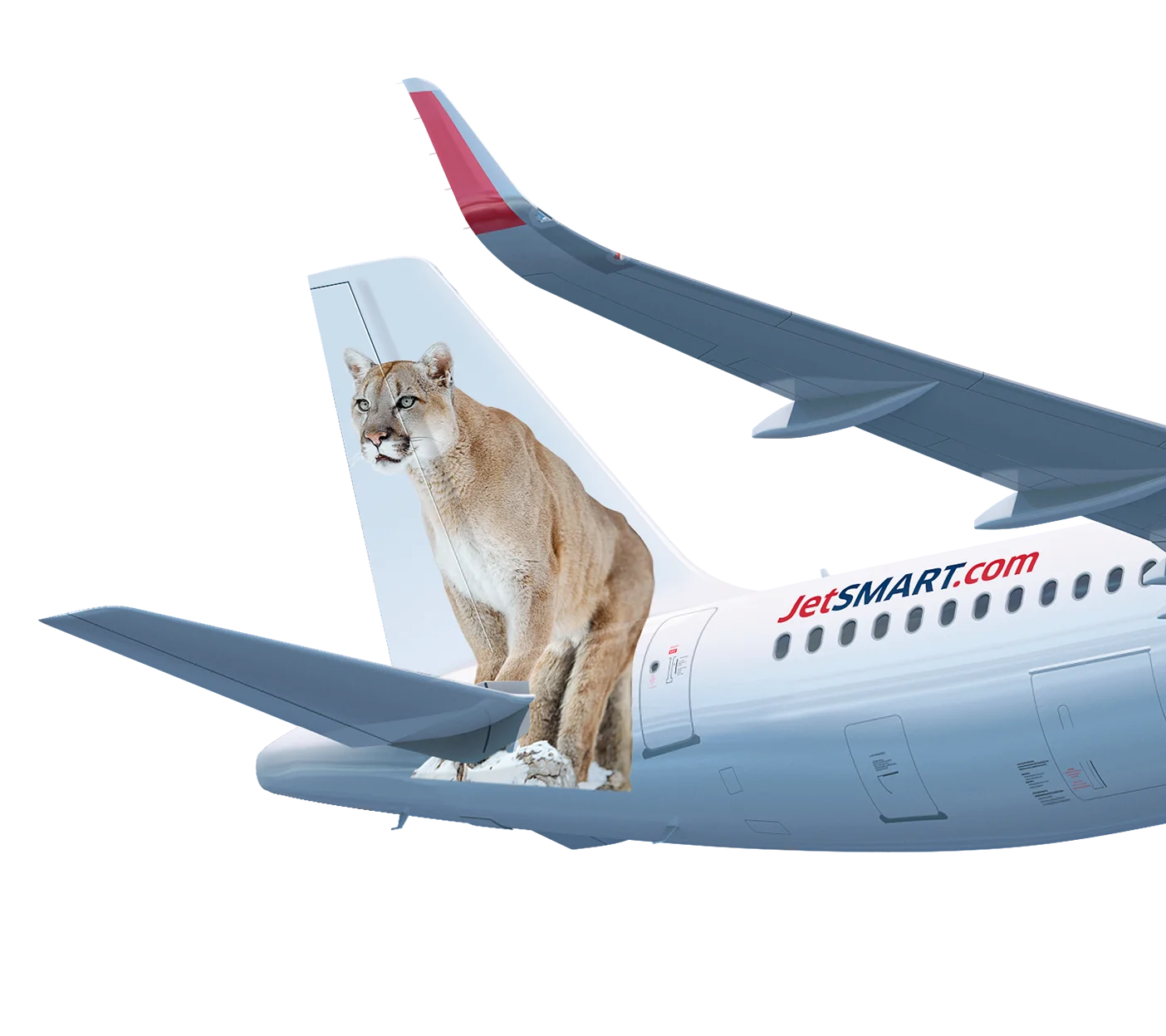 Jaguar
"YAGUARETÉ"
The Airbus A320 is an aircraft that leads the preferences of the world's airlines. An aircraft that stands out because of its sovereignty, the same as the jaguar, Latin America's leading feline. Both, being examples of speed, beauty and efficiency, have managed to position themselves as great icons within the region.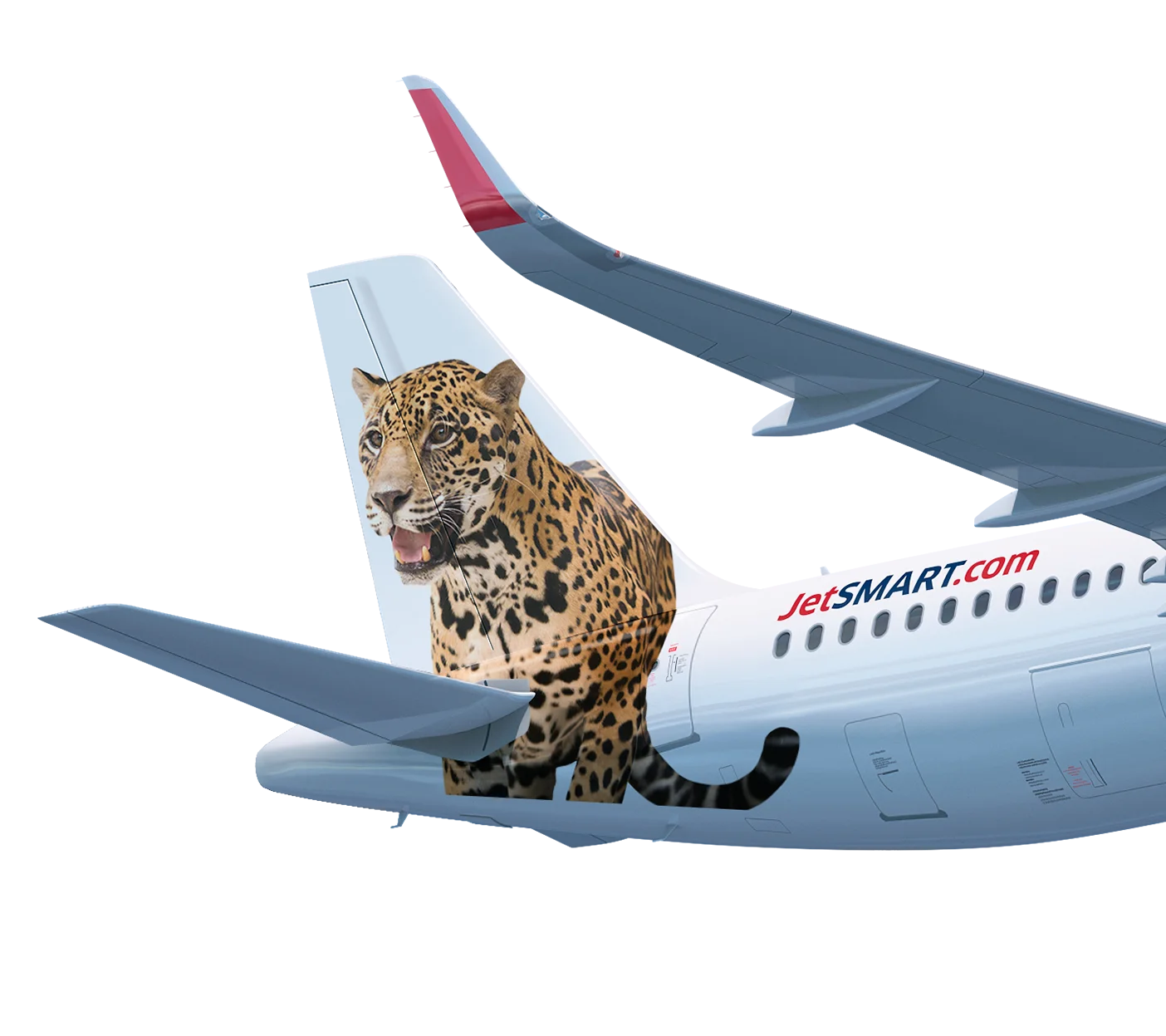 Seagull
"CRISTIAN"
No wonder A320 Airbuses are the preferred aircraft of airlines around the world. Since its entry into operation in 1988, they have flown more than 11.5 billion passengers around the globe. A plane that is no stranger to any traveler, and in the same way that seagulls are always in motion and can be found along the coast of our country, the JetSMART Airbus A320 is always in the air and featured by the best airlines in the world.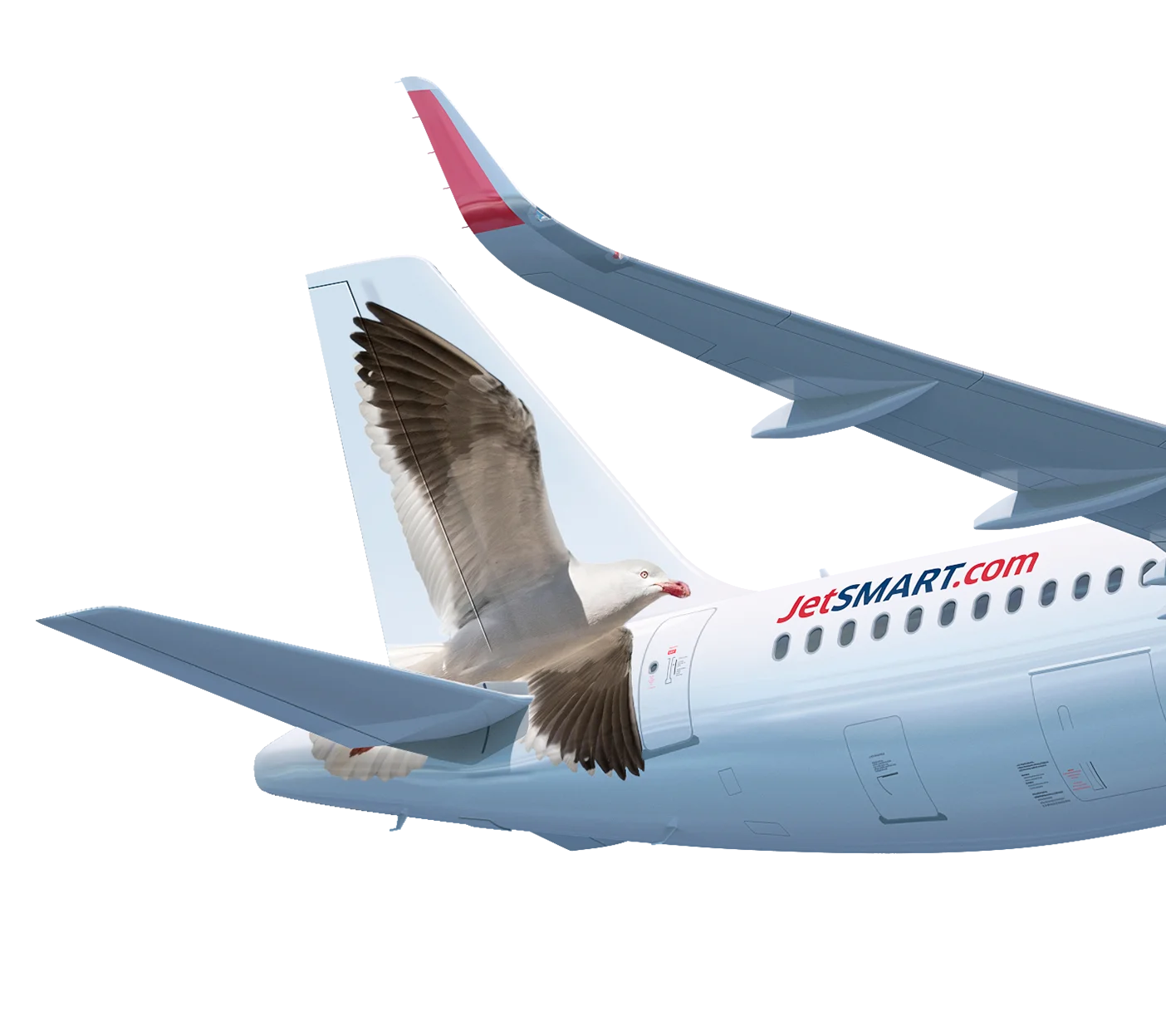 Cóndor
"Alejo Piloto Legendario"
The efficiency and aerodynamics of JetSMART's Airbus A320 combine to make it a fantastic aircraft for both short and long-distance flights Its excellent performance allows it to fly to all South and Central American capitals without needing layovers. Just like the Condor, it can reach great heights and fly for prolonged periods without complication.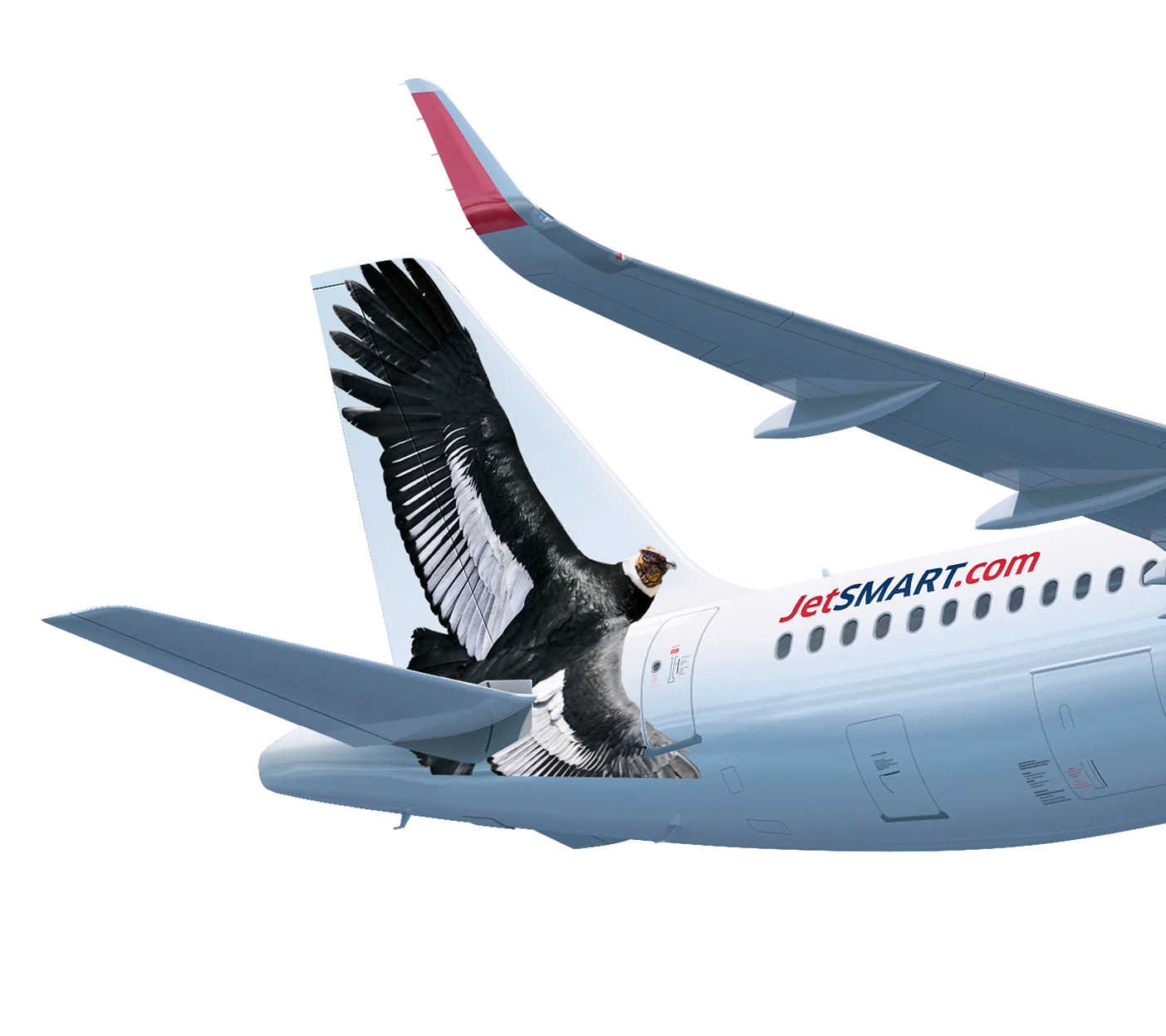 Long-tailed Meadowlark
"Violeta"
JetSMART's Airbus A320 features state-of-the-art airworthiness technology, incorporating satellite approach equipment - RNP - AR - to provide a safer and more efficient flight. Long-tailed meadowlark, a bird of great wit and intelligence, is a great expert when it comes to safety against predators and threats, using the trill to warn others in a dangerous situation. Our A320 Airbus takes this brilliant bird as a model, incorporating the latest technologies for a safe and comfortable flight.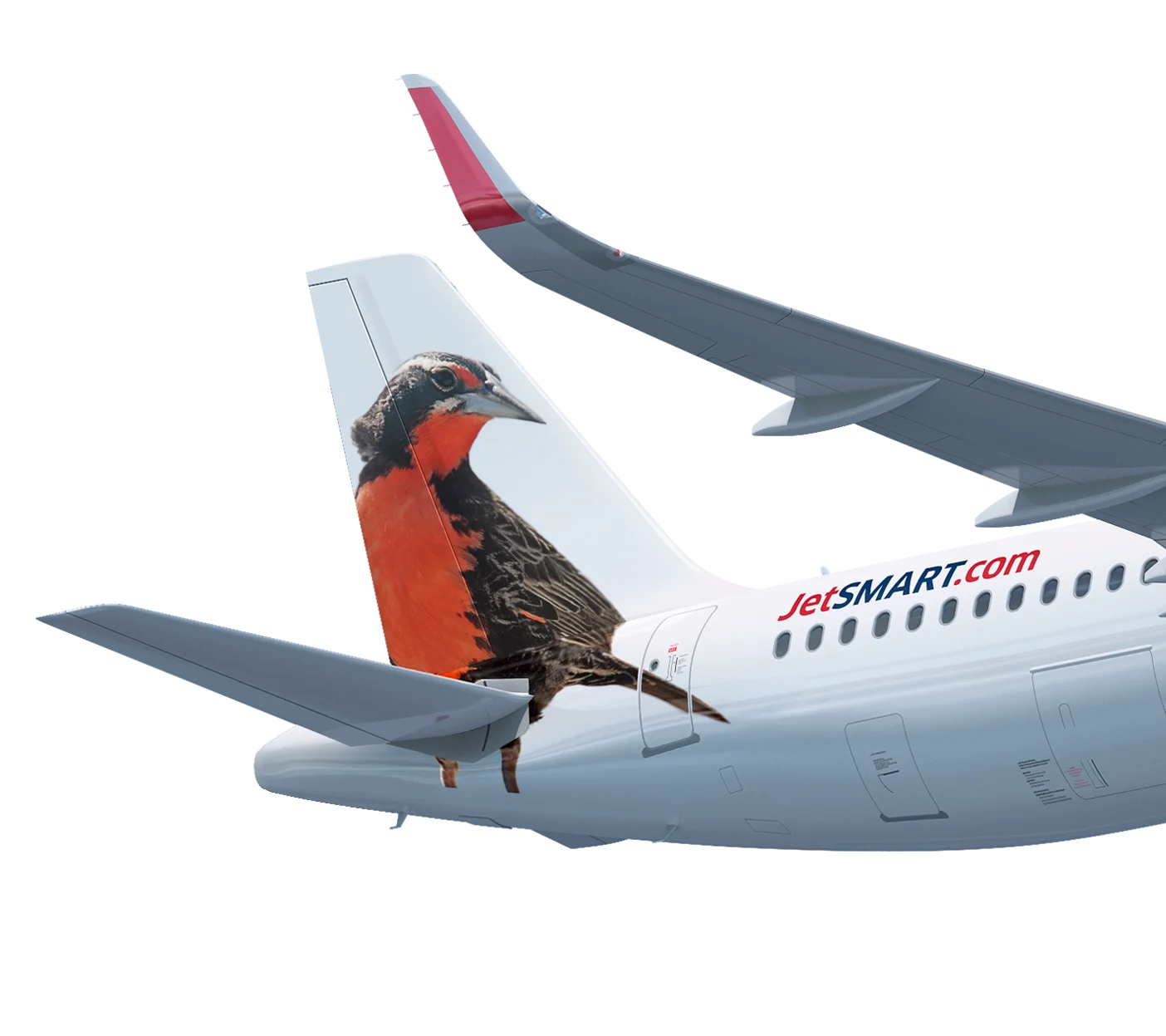 Ringed Kingfisher
"MARTÍN"
JetSMART's Airbus A320 has great agility and flight versatility. It is equipped with aerodynamic devices, called Sharklets, in its wings, which allow optimal performance and fuel efficiency. The Ringed Kingfisher, JetSMART's signature bird, hunts fish with great skill, but if the fishing site is not ideal, it has no difficulty flying over the area without problems until it sees an opportunity. It can stay in the air without any complications for long periods of time.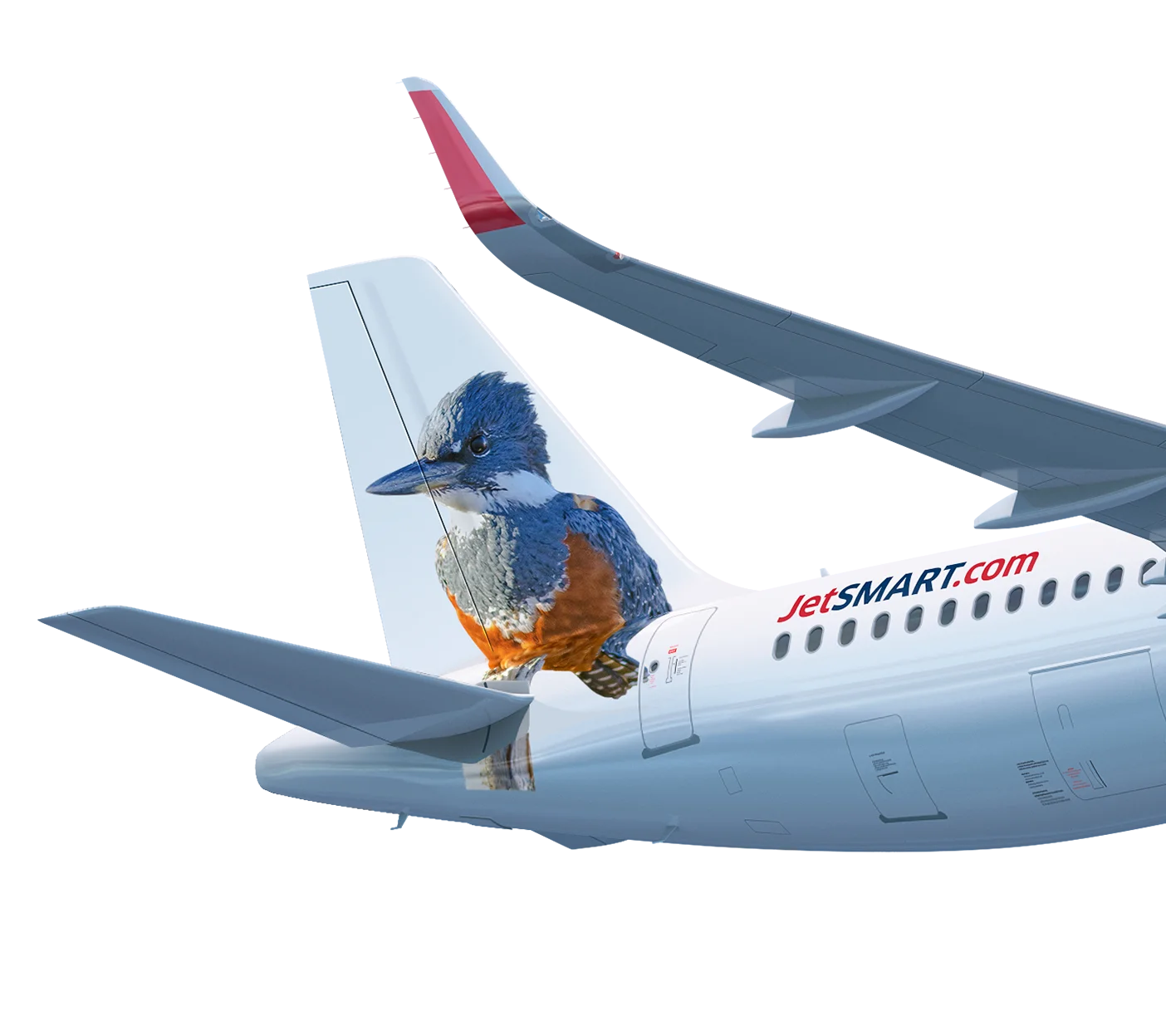 Peregrine Falcon
"Akori"
JetSMART's A320 Airbus has the power to reach 200 km/h in less than 20 seconds, with a fuel range of up to 6,480 km/2950 mn, offering excellent flight efficiency. Just like the Peregrine Falcon, the world's fastest bird, the Airbus reaches this amazing speed in a natural and effortless way, and then takes off to offer a calm and comfortable flight.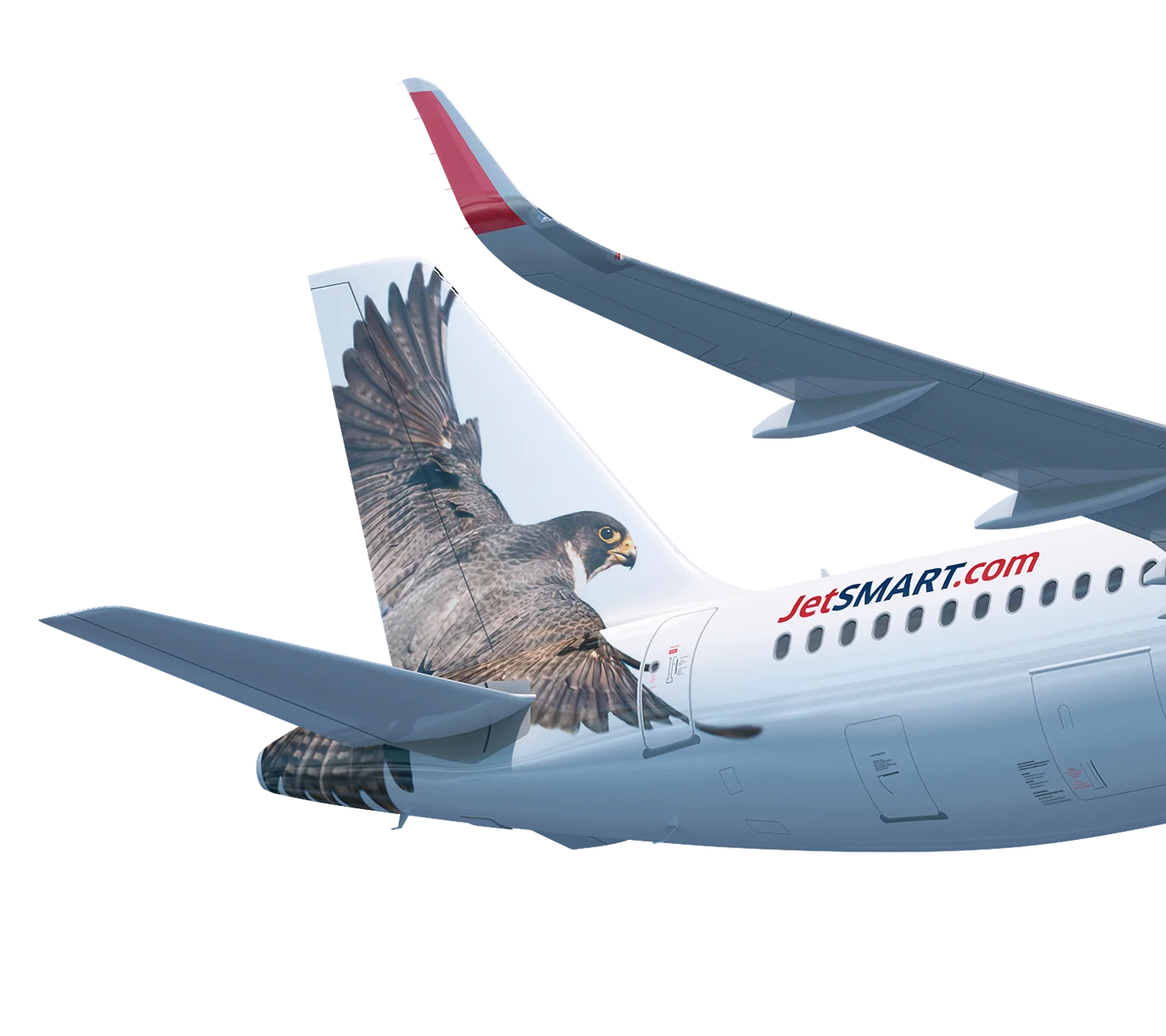 SEE THE INSIDE OF OUR AIRPLANES
And discover all the details we have for you to enjoy the best SMART flight.
Airline information
Chile
JETSMART AIRLINES SPA - CHILE
RUT: 76.574.879-8
Av. Del Valle Sur 650, Oficina 61, Huechuraba, Santiago, Chile
Phone number: 600 600 1311
Perú
JETSMART AIRLINES SPA - PERÚ
RUC: 20602549861
Av. Camino Real 493, San Isidro, Lima, Perú
Phone number: 01 311 0005
Perú
JETSMART S.A.C. - PERÚ
RUC: 20602549861
Av. Camino Real 493, San Isidro, Lima, Perú
Phone number: 01 311 0005
Argentina
JETSMART AIRLINES SPA - ARGENTINA
CUIT 30-71608221-7
Authorized to operate in the Argentine Republic through ANAC Resolution 499/2018
Suipacha 1111 piso 18, Buenos Aires, Argentina.
Phone number: 11 2206 7799
Argentina
JETSMART AIRLINES S.A. - ARGENTINA
CUIT 30-71521296-6
Suipacha 1111 piso 18, Buenos Aires, Argentina.
Phone number: 11 2206 7799
Colombia
JETSMART AIRLINES SPA - COLOMBIA HEADQUARTERS
NIT 901326841-6
MAIL legal-co@jetsmart.com
Carrera 7 #71-52 Torre A, Oficina 706. Bogotá DC
Phone Central: (1) 348 95 81 - Mobile: (031) 348 95 81
Brazil
JETSMART SPA - BRAZIL
CNPJ 35.185.597/0001-70
Av. Guido Caloi nº 1.000, bloco 5, 4º andar, sala 416/parte, Jardim São Luis. São Paulo – SP - Brasil. CEP 05.802-140.
Phone (+55 11) 3042 1183
Brazil
JETSMART S.A. - BRAZIL
CNPJ 35.184.890/0001-13
Av. Guido Caloi nº 1.000, bloco 5, 4º andar, sala 416/parte, Jardim São Luis. São Paulo – SP - Brasil. CEP 05.802-140.
Phone (+55 11) 3042 1183
Uruguay
JETSMART SPA - URUGUAY
RUT 218999740011
1392 Juncal Street, Montevideo
Phone + 598 41 3598 5582
Paraguay
JETSMART AIRLINES S.A. - PARAGUAY
RUC 801115752
Calle Ricardo Brugada número 196, Asunción, Paraguay
Phone +595 21 728 9039
Paraguay
JETSMART AIRLINES SPA - PARAGUAY
RUC 801129508
Calle Ricardo Brugada número 196, Asunción, Paraguay
Phone +595 21 728 9039